In Puerto Vallarta and across Mexico, various holidays and festive days are celebrated throughout the year. If you'd like to learn more about which festive days and holidays are recognized in Puerto Vallarta, keep reading more below.
Day of the Dead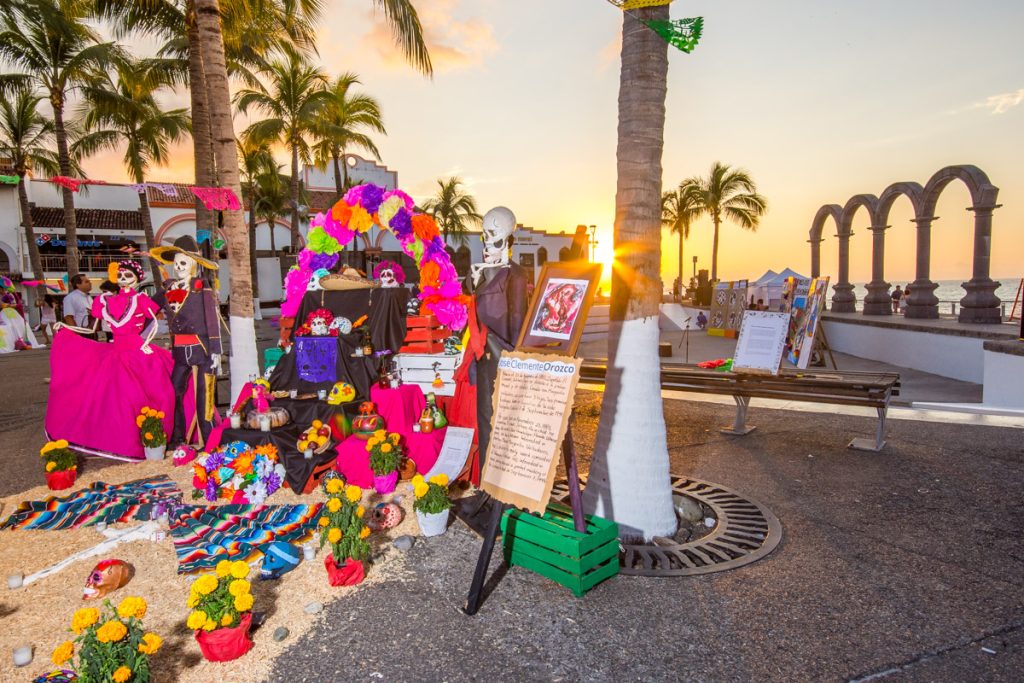 To start with, one of the most well known celebrations in Mexico is Dia de Los Muertos. Known as the Day of the Dead in English, local businesses in Puerto Vallarta and families in the area celebrate this special day which remembers and honors loved ones who have already passed on before us. In 2022, Guinness World Records awarded Puerto Vallarta the title of "The World's Tallest Calavera Catrina" for an incredible Catrina that was constructed by local artists and displayed on the famous Malecon boardwalk. Day of the Dead celebrations in Puerto Vallarta include festivities that have parades, festive decorations, altar competitions, and special foods during this time to remember those who have died before us. Families also visit the graves of their family members who are deceased and leave flowers and foods that the person loved during their life.
Christmas
Secondly, Christmas is another holiday that is celebrated in PV and in many places around the world. If you want to enjoy amazing weather during the winter, many travelers agree that the best Puerto Vallarta weather occurs during the winter. At that time, visitors can spend all their time outside as the heat and humidity of summer or the autumn rains has come to an end. AS the rainy season is over, there is a very low probability of any rain between the months of December through April so you can enjoy being outside and soaking up the warm sun with loved ones. In general, Puerto Vallarta has an average year-round temperature of 86°F (30°C), but evenings and early mornings are cooler during the winter. Many local restaurants and businesses will celebrate Christmas with special menus, decorations, and events around town, too.
New Years Eve
Thirdly, New Years Eve is another celebration and festive day that is great to celebrate in Puerto Vallarta. Local restaurants and bars will have special events going on for New Years, and there will be tons of fun things to do. Plus, the fireworks are truly outstanding as they are displayed over Banderas Bay which is Mexico's largest Bay. To welcome in the New Year, visitors should take a stroll along the Malecon. On the night of December 31, people will fill the streets of downtown PV and overflow into the Malecon where there will be live music, a festive atmosphere, and a fireworks show at midnight. In general, most Mexicans like to celebrate New Year's Eve with a late-night dinner with their families. The largest public celebration in the country is held in Mexico City, where a huge street festival is held on the last night of the year.
Cinco de Mayo
While Cinco de Mayo is actually celebrated more in the United States than in Mexico, many bars and restaurants in Puerto Vallarta and neighboring Riviera Nayarit also partake in festivities to accommodate tourists who love celebrating Cinco de Mayo. In the United States, this holiday is a celebration of Mexican-American culture that originated in the 1800's in California. In case you didn't know, Cinco de Mayo celebrates the Battle of Puebla and Mexico's victory over the French Empire during the Franco-Mexican War. On May 5th, 1862, 2,000 Mexican soldiers defeated 6,000 French soldiers during a battle in Puebla. In Puerto Vallarta, you may find parades, mariachi music, colorful costumes, and fireworks to celebrate the event. However, May 5th is not a federal holiday, so offices, banks and stores remain open.
Mexican Independence Day
Last but not least, September 16th marks the day in 1810 when Miguel Hidalgo declared Independence from Spain. On August 24, 1821, Spain withdrew and officially recognized Mexico as an independent country. Today, Father Hidalgo is known as the Father of Mexican Independence, and Mexican Independence Day is celebrated every year in Puerto Vallarta and across Mexico. Although the Spanish attempted to reconquer Mexico because the Spanish government wanted to regain possession of its former colony of New Spain, the clashes between the newly born Mexican nation and Spain failed and Mexico maintained its Independence. In Puerto Vallarta, Independence Day is celebrated with parties, parades, and tons of green, white, and red decorations in honor of the Mexican flag. The finale is a party when "Viva Mexico!" is yelled out three times in honor of Hidalgo's "grito" or call to arms.
We hope you enjoyed this article about festive days and holidays celebrated in Puerto Vallarta. Maybe it's time to plan a visit so you can celebrate one of these special days in person?