Are you going on vacation to Puerto Vallarta and bringing your children with you? If so, you may be wondering what kind of fun things there are to do in Puerto Vallarta with kids? Found on Mexico's Pacific Coast in Banderas Bay, Puerto Vallarta attracts thousands of visitors each year that love the area's great climate and beautiful beaches. In addition to natural beauty, Puerto Vallarta also has great shopping, excellent restaurants, and art galleries, too. Plus, just hanging out at a resort pool or on the beach is always a kid-friendly activity that everyone in the whole family will enjoy. If you're heading to Puerto Vallarta soon for a vacation, check out our ideas about fun things to do with the kids during your getaway.
Horseback Riding On The Beach
For starters, horseback riding on the beach is a fun activity that everyone in the entire family will enjoy. Many beaches in Puerto Vallarta have horse wranglers that walk up and down the beach with well trained and calm horses available for horseback rides. Both children and adults will enjoy this unique experience that only costs around $300 pesos or $15 dollars for around half an hour. Adults can ride together with their little one or children can ride their own horse. With amazing views of Banderas Bay, horseback riding on the beach is sure to be a memorable experience for your little one during their Puerto Vallarta vacation.
Water Park Adventures
Next, no visit to Puerto Vallarta is complete without a visit to one of the area's waterparks. Located just north of Puerto Vallarta in the neighboring state of Riviera Nayarit, Splash and Aquaventuras Water Park are found in the Nuevo Vallarta area. Aquaventuras is a large water park that has a lazy river, multiple slides, and unique play features. There is even an option to swim with dolphins as well. Splash Water Park is a whimsical water park that features various pools including a fun pirate ship just for kids. There are also serpentine slides and a tiki bar for the adults, too. Water parks also offer sea lion and seal shows where little ones will have a chance to interact with marine life.
Jumping Time
If your kids have energy to spare, why not take them to Jumping Time in the Galerias Shopping Mall to burn off some of that excess energy? The Jumping Time fun center has tons of trampolines and cushioned areas for kids to jump until their hearts are content. Make sure to bring socks for your little ones, or you can buy a pair for a few bucks. There are also board games and video games for older kids. Little ones will adore the cute little train that goes around the mall. You can pay for half an hour or by the hour.
A Day at TierraLuna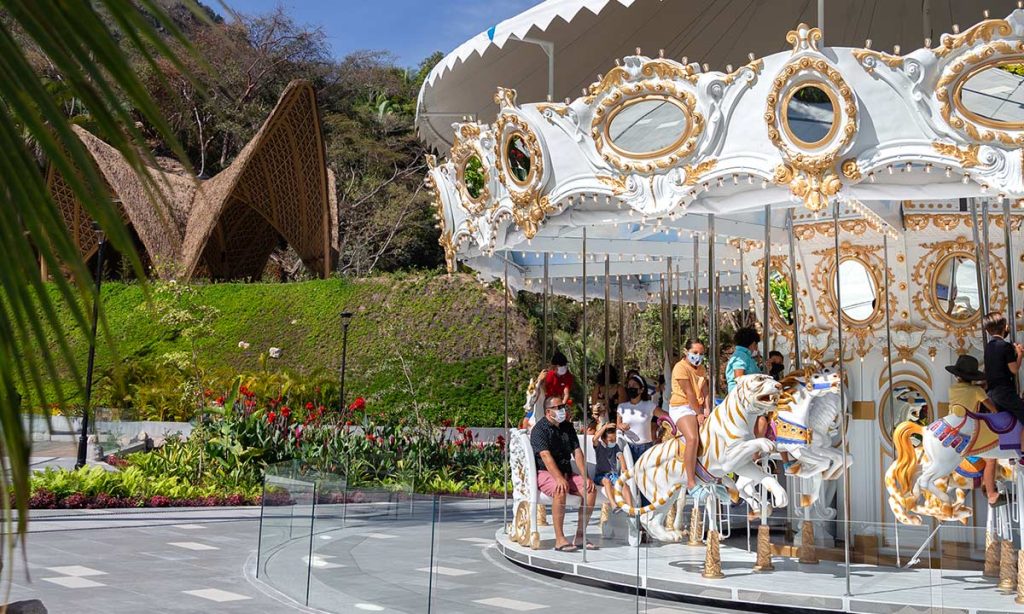 If you want to spend some time with your kids outside surrounded by lush landscaping, head south of Puerto Vallarta to TierraLuna which is located on the Garza Blanca Preserve. TierraLuna is a combination of the words "earth" and "moon" in Spanish and is an outdoor recreation space full of activities for the whole family to enjoy. It is perfectly situated on a mountainside which offers unobstructed views of the Sierra Madre jungle and Banderas Bay waters. The fantastic outdoor space has a whimsical carousel that children will love to take a ride on. In addition, there are vendors selling a variety of unique fares including food, art, and clothing.
Vallarta Botanical Garden
Last but not least, the Vallarta Botanical Gardens are another great place to take kids for the day. The lovely grounds are ideal for strolling and for letting little ones run around amongst an assortment of wildflowers, orchids, and other plants. Make sure to take time to walk down the hill to the stream where kids can splash and play in the shallow fresh waters for a bit to cool off. If you get hungry, the onsite restaurant is delicious and features amazing views of the lush greenery. Make sure to visit the cute little chapel that is beautifully decorated inside with brightly colored bird and plant themes.
On your next visit to Puerto Vallarta, we hope you check out some of our things to do in Puerto Vallarta with kids.