Puerto Vallarta is home to amazing restaurants that can compete with restaurants in all parts of the world. There is a wonderful mix of traditional Mexican food as well as international fare. Whether you are visiting Puerto Vallarta for vacation, or own a second home in paradise, keep reading below to learn our picks for the best restaurants in Puerto Vallarta. After you read the list, make sure to make dinner reservations so you can try them out for yourself.
Oregano Restaurant & Bar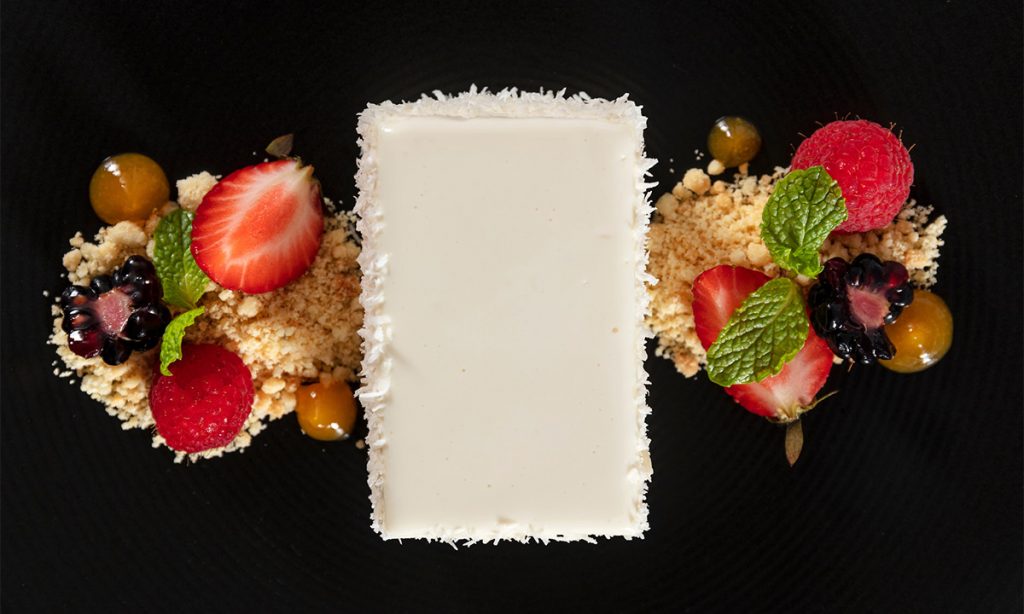 Located in the up and coming Versalles neighborhood, this Caribbean style restaurant is a top choice. There, they prepare creative and flavorful dishes with love and passion. With notice, they can even arrange an exclusive private dinner. To start, diners love the Tostones which are fried Plantains served with a tasty aioli sauce. Mussels steamed in a coconut curry sauce and braised oxtail are other signature dishes to try. To accompany your meal, they prepare handcrafted signature cocktails. For dessert, try the flan that is reported to be decadent and creamy. They also have a great wait staff that goes out of their way to make sure diners have everything they need for a wonderful meal. Right now, they are focusing on take-out meals due to the current COVID restrictions.
Bravos Restaurant Bar
Bravo's Restaurant is a local favorite that many people consider the best restaurant in PV. Situated in Old Town, Bravo's has an inviting ambiance and attentive wait staff. In terms of menu options, favorites include bang bang shrimp appetizer, mussels, Caesar salad, ribeye, chicken supreme and spicy chorizo mushroom penne. The Ravioli di Granchio is another top choice that has a rich and creamy sauce. If you'd like to order wine with your meal, you'll be pleased to know they offer half bottles. For dessert, their red velvet cake covered with chocolate ganache icing is to die for. Ask for a scoop of vanilla ice cream to go on top and your tastebuds will thank you.
Hiroshi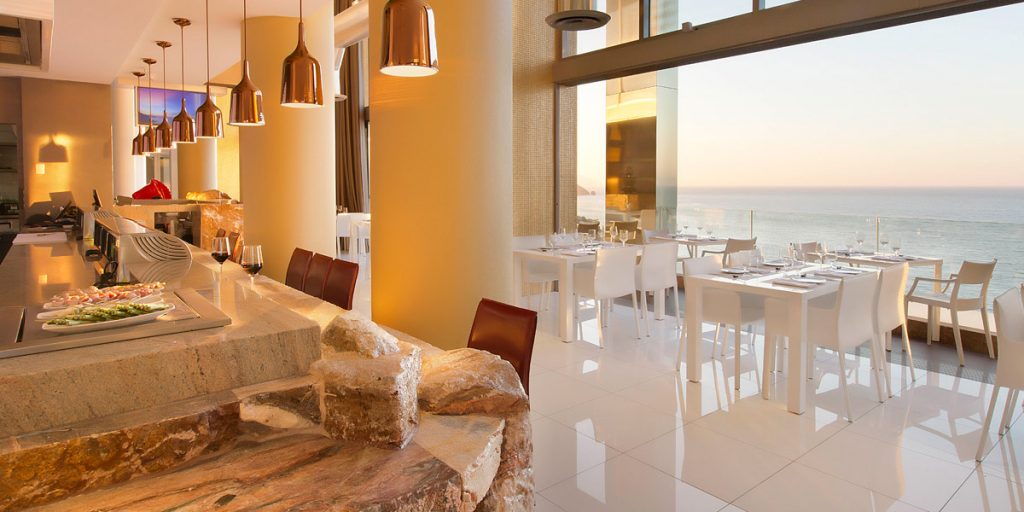 Located in the exclusive adults only Hotel Mousai, Hiroshi offers contemporary Asian cuisine with some of the best views in Banderas Bay. Open from 6pm to 11pm, Hiroshi serves fresh dishes that are also visually stunning to the eye. The modern and minimalist concept is alluring, elegant, and full of flavorsome. Sushi and dishes are carefully prepared with precision and innovation. Wondering what to try first? The menu features a lovely selection of sashimi, sushi, rolls, soups, tempura, yakitori, lobster, shrimp, chicken, steak and vegetable dishes.
Blanca Blue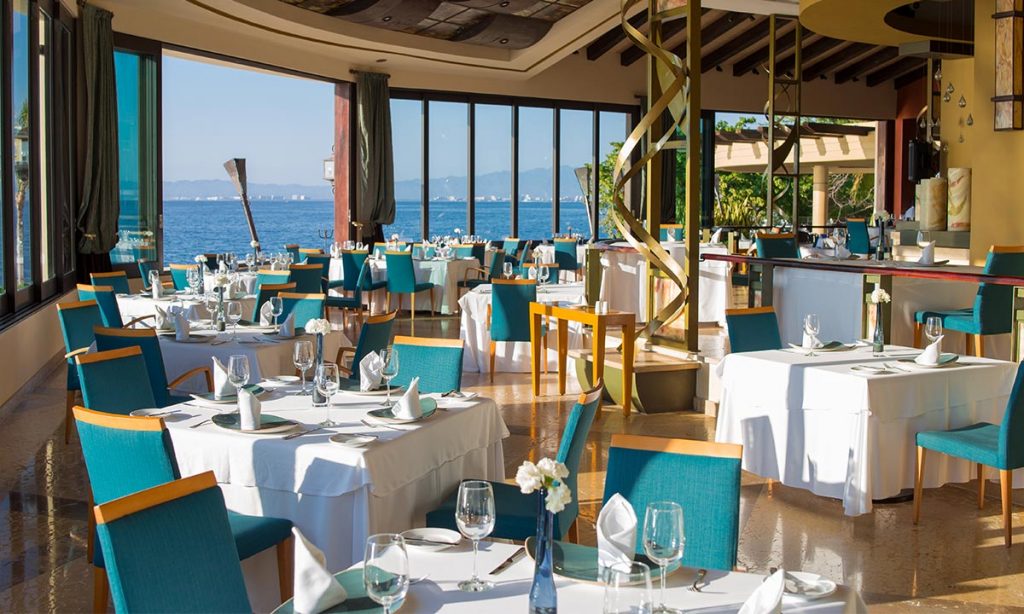 Also located on the Garza Blanca Preserve is Blanca Blue, another stellar choice for high end cuisine in Puerto Vallarta. The oceanfront contemporary gourmet restaurant prepares dishes using the latest gastronomy trends and high quality locally sourced products. The innovative chefs combine iconic Mexican flavors and avant garde culinary techniques in their delicious and satisfying dishes. Popular lunches dishes at Blanca Blue include Red Beet Carpaccio, Spinach Cannelloni, and
Beef tenderloin wrapped in portobello confit. If you decide to enjoy a special dinner at Blanca Blue, try the Blackened Tuna, Boneless Short Rib, or Roasted rack of Lamb with polenta. Breakfast is also available each morning from 6 am. Regardless of what time you visit, everyone will love the stunning ocean views and incredible food. Seating is available both indoors in the cool air conditioning and al fresco on a spacious outdoor terrace.
Poblanos Cocina Mexicana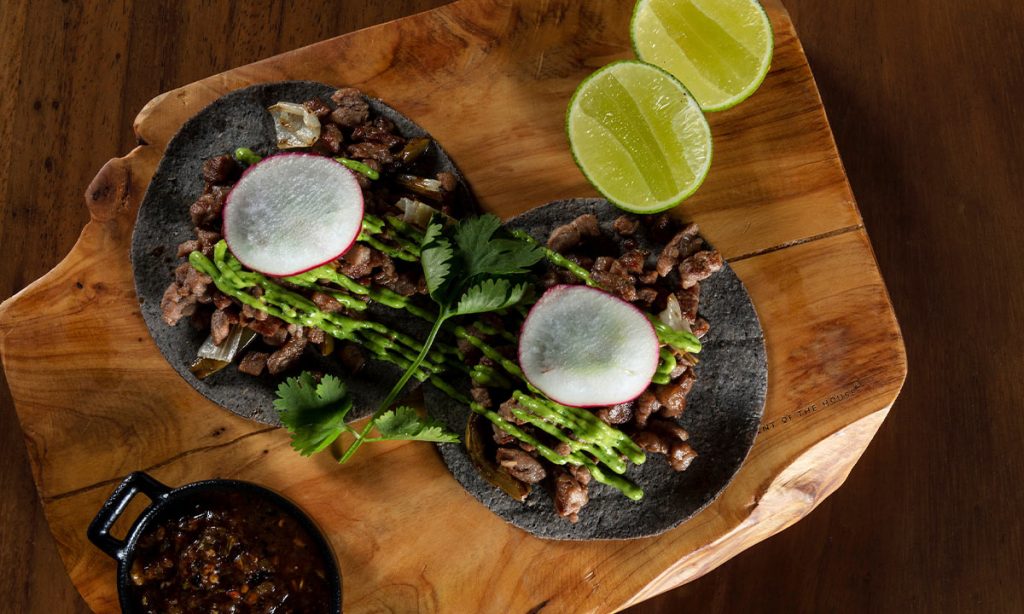 In the Old Town part of PV also known as Zona Romantica, Poblanos Cocina Mexicana is just a block inland from the beach. Poblanos Cocina Mexicana has a vibrant and clean ambiance with a lovely interior courtyard filled with greenery. There are even tables out on the sidewalk so you can enjoy the ocean breezes as you dine. Open for breakfast, lunch and dinner, favorite choices include tacos, chilaquiles, enchiladas, French toast, and huevos poblanos. If you enjoy coffee, ask for one of their lattes with art included in the whipped cream topping. If you like tequila, make sure to try the mango Serrano margarita that is out of this world. For main dinner courses, favorite dishes include chile rellenos, enchiladas, steaks, and quesadillas. The interior is very pretty and the entire staff is very attentive and service oriented.
Siam Thai
If you're in the mood for Asian food, Siam Thai is another top choice. The restaurant is very clean and welcoming, and the staff are excellent. Popular dishes include the panang curry, vegetarian yellow curry with tofu, chicken satay, Thai mejillones, Coconut spiced mussels with fragrant herbs, Thai chicken noodle soup, cashew chicken, summer rolls and papaya salad. If you want a cocktail to go with your meal, the spicy ginger margarita and lychee martinis are delicious! For dessert, try the coconut ginger flan. The personable owner also regularly is onsite and ready to welcome visitors in to enjoy a great meal and first class service.
Trio
Last but not least, Trio is a cosmopolitan restaurant located at the heart of Puerto Vallarta. The multilevel restaurant has a small interior garden with a beautiful water fountain and tropical plants. There, they also display paintings from local artists and the walls of the first floor were fresco-painted by a renowned painter. A hand carved caoba bar and Tiffany style lamps create a Southern European ambiance that is very inviting. Some of the most popular dishes include the calamari appetizer, the seafood soup, and rack of lamb. In addition, the waiters are very friendly and kind. The lighthearted atmosphere and great service makes a delicious meal even better. If you want to have a private party, you can reserve The Gallery which is located on the 2nd floor. The 3rd floor terrace is ideal for special events like private weddings and concerts.
We hope you enjoyed this list of the best restaurants in Puerto Vallarta. Which one do you plan to enjoy a delicious meal at first? If you're in the market for a second home in paradise, check out Lemuria Residences. The luxurious beachfront condominiums have all the bells and whistles that upscale clientele are seeking. Beachfront residences are located in a private community that has amazing amenities and services onsite. Plus, both top PV restaurants HIroshi and Blanca Blue are within walking distance from the development. If you want to own a dream vacation home in Banderas Bay, there's no better choice than Lemuria Residences. Contact them today to learn more about special pre-sale discounts available for a limited time only.