Puerto Vallarta is a top tourist destination located on Mexico's Pacific coast in the state of Jalisco. Situated in Banderas Bay, the area is well known for beautiful beaches, a tropical climate, endless water activities, and a happening nightlife scene. In addition, the Old Town section of Puerto Vallarta has a charming vibe with quaint cobblestone streets, tons of great restaurants, and excellent shopping. There are tons of fun things to do in Puerto Vallarta whether you visit with your sweetheart or want to bring the whole family along. You and your entire family are sure to enjoy a visit to one of Mexico's most beautiful and inviting destinations. Keep reading below to learn our top 5 family activities to do in Puerto Vallarta.
1. Marigalante Pirate Ship Tour for Families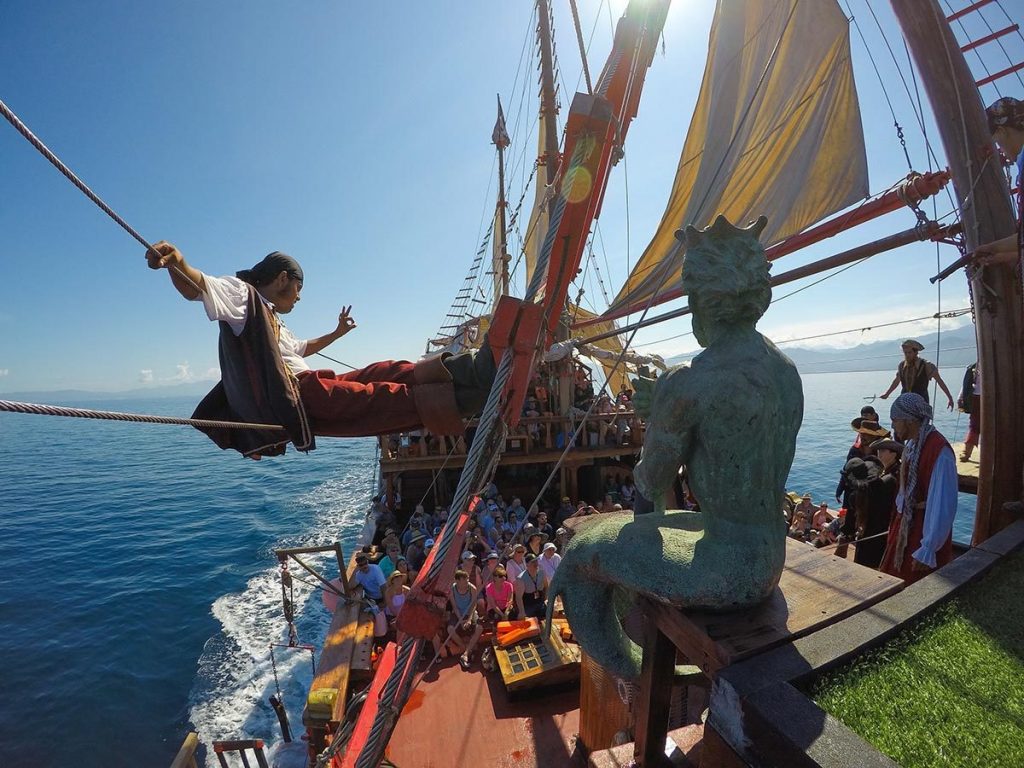 To start with, the Marigalante pirate ship has been a Puerto Vallarta top tour for decades. Vacationers will be thrilled when they step aboard the 17th century replica galleon for a day of adventure. The Marigalante is a unique tour experience where guests will enjoy world class entertainment including impressive pirate acrobatics, live music, and dancing. Plus, a delicious gourmet meal is served that will rival the best restaurants in town. In addition, a premium open bar is served so adults can enjoy a cocktail or two during the fun experience. Day tours and evening tours are available. If you're traveling with children, the day tour is better-suited for families. The day tour includes a stop at Majahuitas Island, face painting, a treasure hunt, and a delicious lunch. Make sure to book your tickets in advance as this top PV tour sells out quickly as space is limited.
2. ZipLine Tour in the Jungle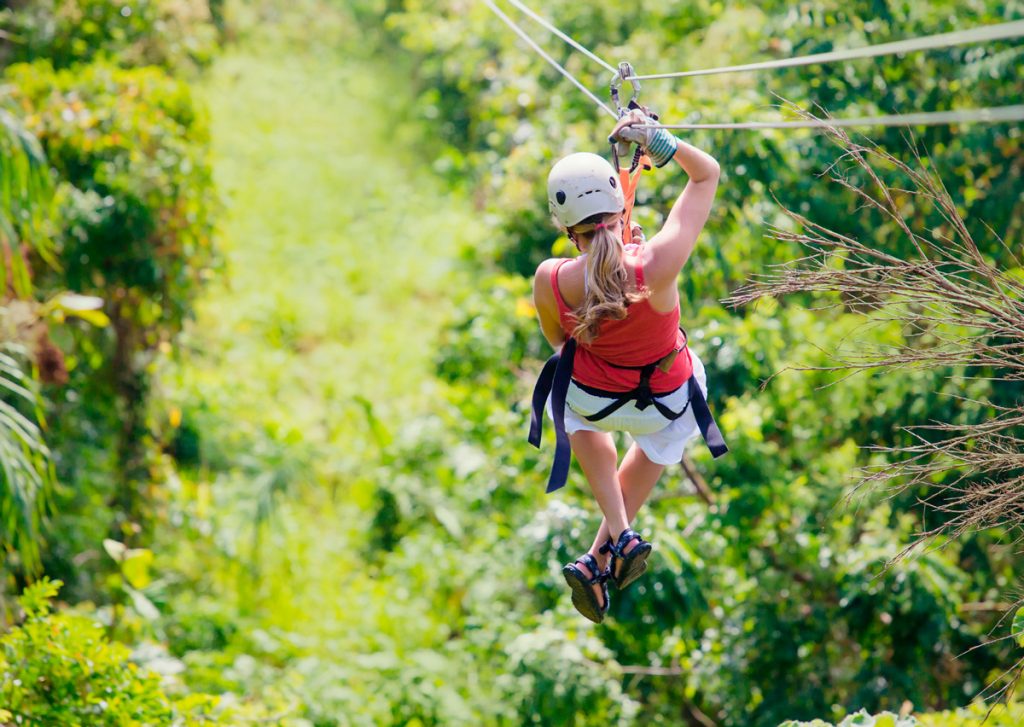 Next, if you want to enjoy an adrenaline pumping adventure during your Puerto Vallarta vacation, why take the family to the Nogalito Ecopark. There, you can try out the Los Veranos Canopy Tour. Located in the Sierra Madre Jungle just south of downtown Puerto Vallarta, a zipline tour is perfect for families seeking a thrilling experience off the beaten path amongst the area's striking natural beauty. Likewise, many vacationers really appreciate the area's lush tropical greenery which is at its peak during or after the summer's rainy season. The Los Veranos Canopy Tour recreation area is open for all ages, but best suited for older children. Children must be at least five years old in order to zipline.
3. Visit Los Muertos Beach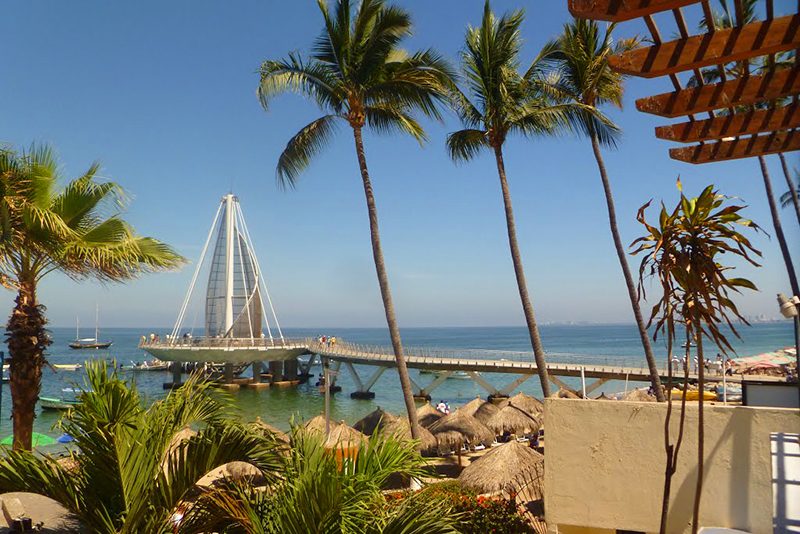 Another one of the top free kid-friendly things to do in Puerto Vallarta is visiting Los Muertos Beach. The area's most popular beach, Playa Los Muertos, is located in the Old Town section of Puerto Vallarta which is also called the Zona Romantica. There, the whole family will enjoy a day of lounging at the beach while the kids build sand castles in the sand or go swimming. There are tons of great restaurants with lounge chairs and umbrellas that line the shore so it'll be easy to find a nice spot to spend your day. The iconic Puerto Vallarta Pier is also located on Los Muertos Beach. The unique sailboat design is a fun place to get a classic Puerto Vallarta picture. Make sure to visit in the evening as well so you can see the pier light up at night in an array of beautiful colors to highlight the sailboat design. Plus, the beach is ideal for swimming, riding a banana boat and more. If you want to try parasailing or jet skiing, Los Muertos Beach is the best spot to partake in these top PV activities.
4. Stroll Along Puerto Vallarta Malecon Boardwalk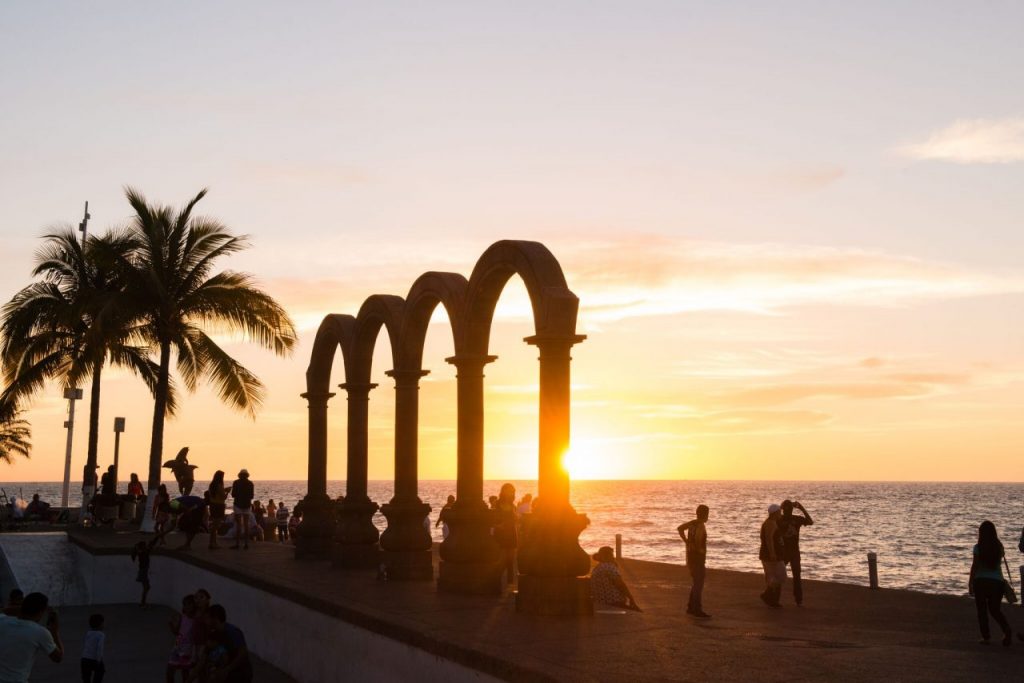 Next, no visit to Puerto Vallarta is complete without a stroll along the Puerto Vallarta Malecon. The mile long boardwalk is a great place to take a stroll as you enjoy the stunning Banderas Bay views. Plus, there is so much to see and do along the route. Local artists will be selling their artwork as well as vendors selling unique handmade handicrafts and souvenirs, too. In addition to shops and stands along the way, many vendors roam the Malecoón selling trinkets that you can take home as gifts or memorabilia. Make sure to not miss the regular street performances that you can watch for free including the Papantla Flying Men. The Papantla is a colorful dance and musical performance that reenacts a prehispanic dance to the gods. Plus, if you're looking for something to eat or drink, the malecon has tons of excellent restaurants, cafes, and bars, too.
5. Visit the ChocoMuseo
Last but not least, the ChocoMuseo is another top family-friendly Puerto Vallarta activity. Also known as the Chocolate Museum, the museum is the perfect spot to enjoy a break from the hot PV sun for a few hours. Both children and adults alike will enjoy the ChocoMuseo experience. ChocoMuseo offers fun workshops especially designed for little ones who will love learning all about chocolate and how to make it, too. The friendly instructors will explain the chocolate-making process and lead a fun activity for kids where they can make their very own chocolate. In addition to the kids workshop, other workshops are offered including how to make flavored ganache, filled chocolates, truffles and ore. Don't miss the cafe on the top floor of the museum where they have a shop that sells a nice wide variety of handmade chocolate products, too.
As you can see, Puerto Vallarta is a wonderful place to visit with the family. We hope you enjoyed our list of the top 5 Family Activities to Do in Puerto Vallarta. If you want to own a vacation home at the beach, check out Lemuria Residences. The brand new development is currently under construction on the grounds of the exclusive Garza Blanca South beachfront community. Lemuria Residences will offer spacious and luxurious condominiums for homeowners who want to own a dream vacation home at the beach. In addition to the elegant residences, the property will have incredible onsite amenities and services that make it an ideal vacation home. Contact Lemuria Residences today to learn more.